Onyx Boox Nova3 Color Review
---
Source: pcmag.com
Author: Sascha Segan, 04.13.2020
All rights reserved
The Onyx Boox Nova3 Color ($419.99) makes the best of its color e-ink screen, juggling full-color comics, magazines, PDFs, and news apps with aplomb. Unfortunately, the beautiful display suffers from a ghosting problem so bad that it's probably a dealbreaker. Onyx may eventually be able to improve this with a software update; until then, you'll be stuck hitting the manual refresh button a lot. Color ebook reader technology continues to develop, but right now it just isn't where readers need it to be.
Long-Awaited Color, Still Flawed
Fans of e-ink devices love their restful, sunlight-readable screens and long battery life, but so far, digital ink has mostly been monochrome. Various companies have been trying to make color e-ink or similar displays for a decade now. Qualcomm's Mirasol project flopped in the 2010s. E Ink (the company, as distinct from the general term e-ink or digital ink) suffered a similar failure with Triton in 2013, and its current four-color ACeP screens have refresh rates too slow for consumer ebook readers.
The newer E Ink Kaleido, and now Kaleido Plus, appear to finally balance capability and cost. Kaleido is a black-and-white E Ink screen with color filters on top, delivering color without expensive pigments. Kaleido Plus improves the color saturation and makes 7.8-inch screens possible. That's what the Boox Nova3 Color and the competing PocketBook InkPad Color ($329) are based on.
Typical 6-inch black-and-white ebook readers are great for text-heavy works; 7.8-inch devices are just right for comics, color travel guidebooks, and many magazine pages and PDFs. An American comic page is about 10.8 inches on the diagonal, and magazines are generally 13.9 inches diagonal. Comics are still readable on both the Nova3 Color and the InkPad Color. With magazines, it depends on how small the text gets.
Onyx makes E Ink readers that could also be considered tablets. They run full Android, complete with Google Play. That makes them more powerful and flexible (but also more expensive) than popular ebook readers such as Amazon's Kindle, Barnes & Noble's Nook, and Kobo devices, which typically can't read books from competing services unless you jump through complex software hoops to defeat copy protection. We've reviewed several Onyx ebook readers favorably, including the Onyx Boox Note Air, our Editors' Choice for a large-format e-ink reader, and we had high hopes for this one. Unfortunately, those hopes were dashed by Kaleido Plus's technological limitations.
(It's worth mentioning that Onyx's Web site is boox.com and it's based in China; the Russian company at onyxboox.com is a reseller, not the manufacturer.)
A Premium Color E-Ink Reader
The Boox Nova3 Color measures 7.8 by 5.4 by 0.3 inches and weighs 9.3 ounces. It's noticeably heavier than any Amazon Kindle or Kobo ebook reader, though it's lighter than an iPad mini. Like Amazon's top-of-the-line Kindle Oasis ($249.99) and Kobo's premium Forma ($279.99), it has a flat front, and the bluish-white front light doesn't bloom in the corners. The back is a matte black plastic that unfortunately attracts greasy fingerprints. It is not water-resistant. It's much better built than the PocketBook InkPad Color; it also costs $100 more.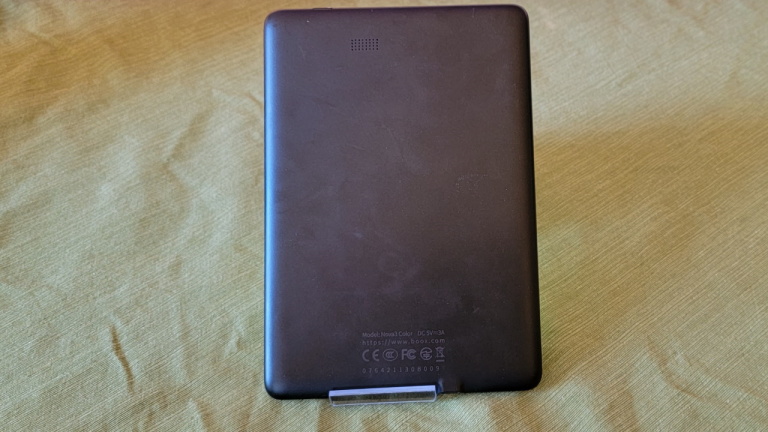 The speaker is on the back of the reader.
The Boox Nova3 Color and the PocketBook InkPad Color have the same screen panel, but with very different software. That's a 7.8-inch panel with 1,872-by-1,404 resolution at 300ppi in black and white. If you enable the three color filters, you'll see 4,096 colors, but the resolution drops to 624-by-468 and 100ppi.
There's a weak speaker on the back. You can also attach USB-C or Bluetooth headphones; our test unit worked fine with my OnePlus USB-C earbuds, Jabra Elite 75t Bluetooth earbuds, and OnePlus Buds. The dual-band Wi-Fi had good speeds in our tests. Onyx estimates 40 days of standby time on the 3,150mAh battery; that translated to four or five days of moderate use for me.
The OS is Android 10, running on a Qualcomm Snapdragon 636 processor with 3GB of RAM. It gets 230 single-core, 812 multi-core on Geekbench. That's not great. The tablet we've tested that's most similar is the Samsung Galaxy Tab A 8.4, and a Moto G7 phone is about equally powerful—which is to say, not very. On the other hand, reading apps don't require much power.
You can transfer files via the USB-C port or use any Android cloud-storage app of your choice. There's no microSD card slot, but the device has 23GB of available storage.
Android apps run natively on the Nova3 Color.
Onyx's UI has five main panes. The first, called the Library pane, is Onyx's NeoReader app, which lets you read books and arrange them into collections. It handles a wide range of book, document, and comics formats. EPUBs, PDFs and CBRs all display quickly and have speedy page-turns, and you can even annotate and re-export PDFs with the included pen.
This being Onyx, you don't have to worry about file-format support. If NeoReader can't handle a file, download whichever Android app does. Audible, Comixology, Kindle books, Kobo books, and more display in their native apps and interface, with whatever their native features are. The experience of reading a Kindle book in the Kindle app is just like it is on any Android phone or tablet. It's a good thing you have so many sources for reading material, because Onyx's own bookstore gives repeated server errors.
Kindle books run in Amazon's standard Android app.
The other panes are for the note-taking and drawing app, a file browser, settings, and the apps screen. Onyx's Android app store includes APKs (obviously scraped) for popular apps such as Kindle, Nook, Flipboard, and VIZ Manga. If that feels too sketchy, it's easy to enable the Google Play store.
Good for Scribblers
A chunky plastic Wacom stylus is included, along with a drawing app that lets you doodle (and annotate PDFs) in 11 different colors as well as four shades of gray. You can use a few "colors" on black-and-white Onyx readers, too, but your red-pen annotations look gray on those until they're exported to a different device.
The note-taking app supports layers and has both shape tools and multiple brushes, so if you're more of an artist than a scribbler, you've got options. Between color strokes there's a pause while your ink flashes to "set" itself. There's no such pause with black-and-write writing.
You can draw in a range of colors. Note the ghosting from the previous UI page right below the second "in."
The pen also really only works in Onyx's own note-taking and annotation apps, with a massive lag in third-party apps like OneNote. Still, this is a great size for a note-taking tablet, and color really adds to the experience.
What Color Ebook Readers Do Better
Color doesn't bring much to the experience of buying and reading standard books containing black-and-white text. Book covers look better in color and that's about it. However, Onyx's pen and full Android OS open up all sorts of other ways to use an ebook reader: drawing and annotation, news and comics reading, and even basic gaming and video, all without the eyestrain that comes from too much time staring at a glowing screen.
Sales of comic books and graphic novels went up by 40% from 2013 to 2019, according to Publishers Weekly. Marvel and DC movies probably get a lot of the credit for that, along with the increasing availability of imported manga. Comics reading can be an expensive hobby; fortunately, subscription services such as Comixology, DC Universe Infinite, and Marvel Unlimited have come to the fore in the past year. Onyx Boox readers support all of them.
The magazine industry also still exists; PCMag has published a successful digital magazine via Zinio since we stopped print publication in 2009. Onyx supports Zinio, too, and the 7.8-inch screen here is just big enough for magazine pages to be readable, as long as your eyes aren't too tired.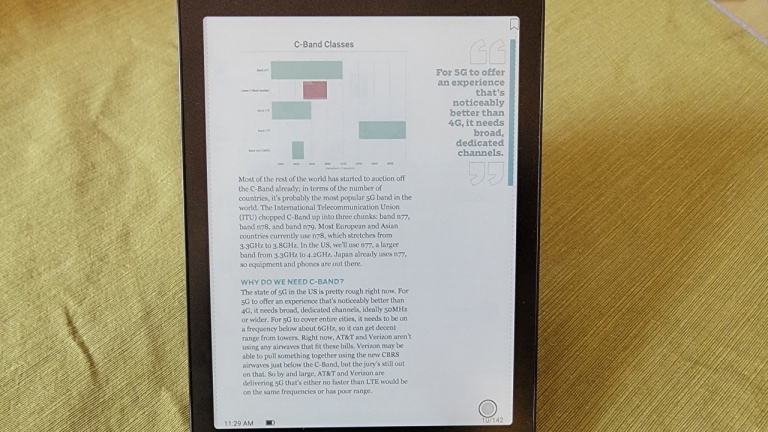 Magazines with color elements are generally more readable than on black-and-white screens.
Up until now, the major way to read color digital publications was on LCD tablets such as the Amazon Fire HD 8 and the Apple iPad, which also have the advantage of being much less expensive. Those tablets are still better in almost every way—except that glowing LCD and OLED screens can be hard to look at for long periods. If you stare at a computer for work or school all day, e-ink will give your tired eyes a break.
The Kindle store page looks great in color.
So there's a lot that makes the Boox Nova3 Color worth its premium price—or would, if it weren't for the ghosts.
Get Outside and Exorcise
Onyx is always pushing the limits of what e-ink can do, and you really see that here. Onyx's version 3 software took care of the ghosting on its black-and-white readers, but it still has some work to do with color, especially when displaying comics. Page turns are fast, but relics of each page linger on the next one, to the point where it's really hard to enjoy what you're reading.
The ghosting significantly diminishes the pleasure of reading comics in color e-ink.
There are three refresh rate options. The default one minimizes ghosting, but you can't watch videos or play games with it. Increase it and there's noticeable ghosting on white areas of the screen, but you can actually watch (jerky) YouTube videos in color, which is amazing. Android apps just are not designed to run on e-ink screens, but the Boox Nova3 Color does its best to make them work.
The ghosting is most intense in dedicated comics apps. I tried Marvel Unlimited and Astonishing Comics Reader; both showed extensive ghosting even with the refresh rate turned to "as frequent as possible." Hitting the manual refresh button clears the ghosting, but you don't want to have to do that on every page.
Onyx's own Neo Reader app showed some ghosting across CBR and PDF files, and even a little bit in an EPUB file. Ghosting in the New York Times app bothers me less than in the comics apps; maybe a newspaper is supposed to look a little dirty.
Ghosting gives this news app page an old-fashioned newsprint feel.
The Kindle, Kobo, and VIZ Manga apps show little to no ghosting in their primarily black-and-white content, but if you're reading primarily black-and-white content, there's no reason to spend over $100 more for a color ebook reader.
There's also ghosting throughout various UI elements. Opening and closing the color picker in the note-taking app creates a ghost, and switching from the library screen to the notes or apps screen leaves behind a ghost of book covers past. The ghosts aren't always bothersome, and forcing a manual refresh always clears them, but it's definitely an imperfect experience.
You often don't see the ghosts as much behind white and black as you do behind yellow and blue, where they can be very noticeable. So a magazine PDF, which has a lot of white space and black text, might look much better than a color-filled comics page or picture book. If you're dealing primarily with e-books that just have a hint of color, you may never see it at all.
Books Should Be Haunting, Not Haunted
The Onyx Boox Nova3 Color is a feat. No matter whether you use Kindle, Kobo, Marvel Unlimited, or the open web, within minutes, you'll be reading the color content you want in an application you're familiar with, on a screen that looks absolutely beautiful out in the sun.
We can't broadly recommend this ebook reader because of the ongoing ghosting issues. Though they can be addressed in some cases by tweaking the settings and in others by hitting the manual refresh button, it all gives the feel of a system with a critical unsolved problem. For now, black-and-white ebook readers and color LCD tablets are the only two viable digital reading options.
If you like the full-Android E Ink features offered by Onyx, the $339.99 black-and-white Onyx Boox Nova3 gets you everything this ebook reader has but without the color. Otherwise, for reading full-color content, the $329 base iPad still reigns supreme.