Onyx Boox Max Lumi Review
---
Source: pcmag.com
Author: Sascha Segan, 10.06.2020
All rights reserved
Big, attractive, powerful, and unique, Onyx's Boox Max Lumi is a massive tablet that lets you do anything with E Ink that you would on a standard, large-format Android slate or PC monitor. It's very similar to the Boox Max 3, but it's refined all around. In terms of hardware, you get a faster processor and an adjustable front light. But the biggest changes are in software, with a smoother, more productive, and more broadly compatible version of Android, with better built-in apps and wider third-party app support. While the Boox Max Lumi is certainly a niche product at $879, it breaks new ground for E Ink productivity and flexibility, and earns our Editors' Choice.
A Big E Ink Screen
The Lumi uses the same 13.3-inch, 2,200-by-1,650, 207ppi E Ink Mobius Carta screen you'll find on other E Ink devices this size. The module is the E Ink VB3300-NCD, and the manufacturer says it has 16 gray levels and a 450ms refresh rate. Since E Ink (yes, it's a company, not a term) is the single supplier for a bunch of different manufacturers, it doesn't tend to differentiate on the screens themselves; it's more about what you can do with them.
The tablet doesn't come with Google Play, but it takes just a few minutes to set up
The 13.3-inch screen on the Lumi is ideal for representing 8.5-by-11-inch documents at a nearly 1:1 ratio, as an 8.5-by-11 page has a 13.9-inch diagonal. Sheet music, graphic novels, and scientific texts in PDF all display very well here. It's also good for even larger documents, such as maps. It's overkill for standard size books, unless you intend to use very large type.
At 12.20 by 8.97 by 0.31 inches (HWD) and 20.1 ounces, the tablet is large, but that's the selling point. There's some bezel around the edges, but not to an offensive degree. At the bottom, there's a combination back button and fingerprint scanner. On the bottom of the tablet are a USB-C port and a dedicated micro HDMI input port. Two very small, quiet speakers are on the back; if you're listening to something, you'll want to use USB-C or Bluetooth headphones, or 3.5mm headphones with the included dongle. Yes, the tablet is fragile and no, it isn't waterproof, but Onyx sells a case.
One of the big hardware changes is the Lumi's Moon Light, a color-changing front light with a wide range of blue-to-yellow colors and brightness levels. A front light isn't as important on a large-format, workaday tablet as it is on a smaller ebook reader, if only because you're a lot less likely to use it in bed. But if you want to do that with the Lumi, you can.
The dual-band, 802.11n Wi-Fi here is slower than the 802.11ac or 802.11ax you get on most tablets and laptops today. Against a 400Mbps source, I got 237Mbps down when close to the router, and 49.6Mbps down around a corner and through a wall on the Lumi, compared with a full 400Mbps and 182Mbps respectively on an 802.11ac-capable OnePlus 8 Pro phone.
Like on other pen-powered Onyx tablets, the Max Lumi uses a small, light black plastic stylus with an action button on the body and an eraser button on top. The stylus has a pocket clip that prevents it from rolling. It's a Wacom pen, so it doesn't need a battery. It's solid, but very light.
E Ink isn't designed with the responsiveness that you need for a lagless pen experience, but Onyx specially programmed its note-taking application to work around that. (Remarkable and Sony have both done similar black magic with taking notes on E Ink.) In the official Onyx notes app, you don't feel the lag. But Onyx's trickery is restricted to that app only; with OneNote or Autodesk Sketchbook, there's a significant lag when you're trying to use the pen.
Your E Ink PC
Like the Max 3, the Lumi works as an HDMI or wireless monitor for your PC. As in other apps, you choose between a sharp, black-and-white mode to show static reading material, or, more likely, somewhat grayer, noisier screen modes that raise the frame rate to tolerable levels.
Plugging the tablet in via HDMI to a laptop, you can use it as an external monitor
But there's also a new, system-wide split-screen mode that, along with a Bluetooth keyboard, turns the Max 3 into a shockingly tolerable little E Ink PC. Onyx's split screen is easier to use than the standard split screen: It just divides the display into two independent panes, and you can load different apps on either side. Onyx warns not all apps are compatible, but its reader, browser, and note-taking apps are, as well as OneNote, Kindle, Microsoft Office, The New York Times, and Gmail, for instance.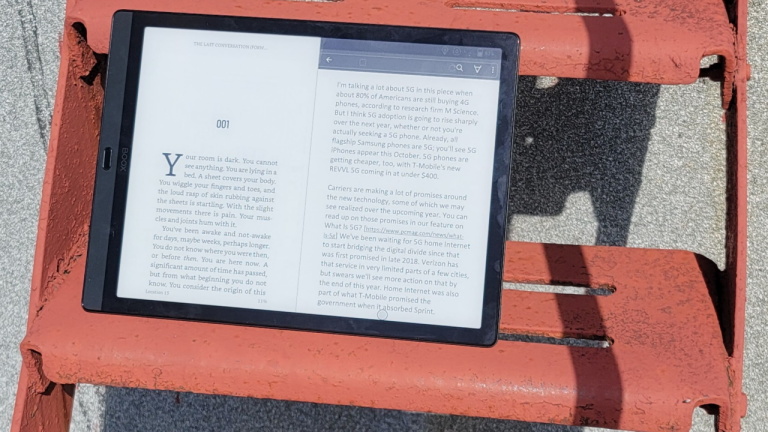 On a 13.3-inch tablet, a split-screen mode is a joy
The primary use for this mode, in my experience, is mostly to take notes in one window while you're doing research, or reading, in the other. In that way, it's a lot tidier than Onyx's older PDF annotation options—it's now easy to use the note-taking app you like along with Kindle as your reading or research app. Remember that only Onyx's note-taking app works with the stylus without lag.
Your E Ink Tablet
The Lumi has the power of a midrange Android tablet under the hood. It runs a Qualcomm Snapdragon 636 processor, with 4GB of RAM and 64GB of storage. Because of the screen, we aren't able to benchmark it—benchmarks either give nonsense scores or crash. So my performance judgements are approximate.
The built-in reading app is excellent, with broad format and annotation support. I didn't feel a need to download additional comics or PDF readers, although of course I could.
The built-in reading app makes easy work of popular comics and book formats, and if you need Kindle books, just run the Kindle app
The note-taking app is a big part of Onyx's software experience, and this year the company is trying to push it closer to being a sketching app. It has variable-width, pressure-sensitive brushes, easier color selection (though still just blue, green, red, and four levels of gray), and now layers. As before, you can export as images or PDFs. The virtual ink isn't as responsive as Samsung's S Pen or the Apple Pencil on an LCD or OLED screen, but you get used to it pretty quickly.
Onyx's pressure-sensitive pen uses industry-standard Wacom technology, but only its own notes app is designed for low lag with the E Ink screen
The tablet comes with its own little app store with a few dozen Onyx-approved apps. They mostly appear to be ripped out of APKPure, a popular non-Google Play store. It includes a lot of the apps you'd want to load on here, such as Kindle, Kobo, and Nook; several comics readers; a PDF reader; Dropbox; OneDrive; and the Microsoft Office suite.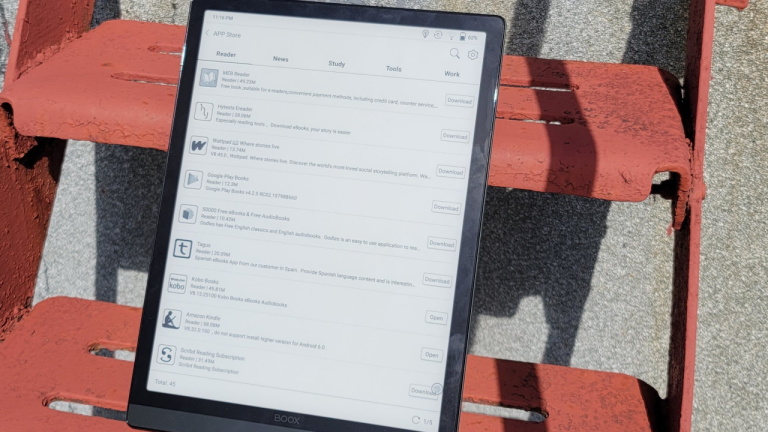 Onyx's own app store is a little shady, but it has a lot of the apps you'd most frequently use, and you can always use Google Play
Onyx tablets can't officially get Google Play support because Google won't certify E Ink devices. Google doesn't really mind you using Play on the tablet, it just falls through the cracks. Onyx has made the process of loading Google Play much easier over the past year, and I'm happy to say that almost every app I tried—even Call of Duty—acquitted itself well on the tablet. The only app that didn't quite work is the official VIZ Manga app, which was zoomed in weirdly.
See How We Test Tablets
You may have to tweak settings to make apps work well, but you can. The most important setting is the tablet's refresh mode, which trades frame rate for sharpness and ghosting. The default refresh mode works like an ebook reader, with razor sharp, ink-black text, but any animations strobe unusably. Three other modes each improve the frame rate in exchange for a grayer, noisier overall picture. Even action games are (barely) playable in the final X Mode. Since the tablet is black and white, there's also an option to invert the colors of some page elements, which I needed to do in Microsoft OneNote to make the menus visible.
The Lumi has four refresh rate modes, which let you tailor the tablet's response to different kinds of content
Battery life on the 4,300mAh cell is long, some of which comes down to the very E Ink philosophy of this tablet. It doesn't really have a standby mode; it genuinely turns itself off, and it doesn't run background processes when you're actively using it. I've been testing it for three days now and I'm down to about 50 percent. I'd give it a week of normal use.
Even fast-moving games like Alto's Odyssey are somewhat playable in the highest refresh rate mode
Costly but Worth It
Onyx continues to wow me with E Ink tablets that truly have no peers. After a few generations of rocky software, they now work smoothly and are broadly compatible with anything you can download from Google Play. Their mainstream Android nature truly separates them from large-format pure e-reading and note-taking tablets like the Remarkable and the Sony e-paper series, as well as from lesser-known Chinese Android-based E Ink tablets that don't play as well with Google Play or with apps popular in the US.
The company's big-screen products don't really compete with standard ebook readers like the Kindle and Kobo lines, or with iPads or Samsung Galaxy tablets. You're looking at an Onyx because your documents are too physically big for a Kindle or a Kobo, but you find an LCD tiring. You need to be a little smart and patient about how you set up and use apps on this tablet, but provided you're willing to put in some effort, it works like no other.
I don't feel that the Lumi is much faster than the Boox Max 3. Its front light is a nice touch, but the real difference here is the software. It's smoother, less buggy, and more app compatible than when I tested the Max 3 last year, and it makes the Lumi a pleasure to use. While the new software might be coming to the Max 3, I never recommend buying a product for possible future features—the Lumi is therefore my choice for large-format e-reading devices.
The real question is whether to get the Lumi or the much less expensive Note Air ($479.99). The Note Air has the same processor and software, less storage, but a potentially better stylus. It's also 10.3 inches to the Lumi's 13.3 inches. I look forward to reviewing the Note Air in the future and seeing more of what the differences are between the tablets. If you need a really big screen for serious E Ink computing, however, the Onyx Boox Max Lumi is by far your best bet, and our Editors' Choice.