New Onyx Note3 and Boox Nova3 Now Available to Order
---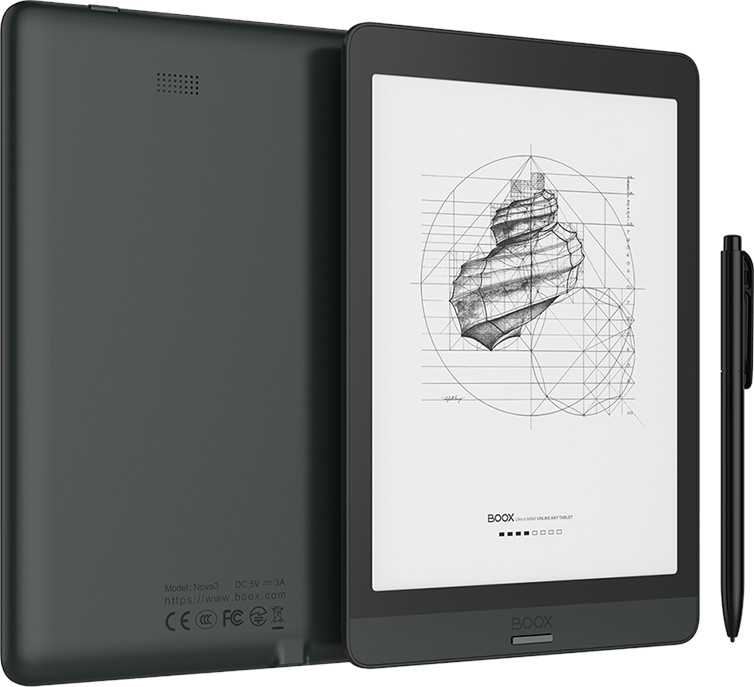 Onyx has officially released two new Boox devices, the 10.3-inch Note3 and 7.8-inch Nova3, to go along with the two new models they released last month, the 10.3-inch Note Air and 13.3-inch Max Lumi.
Both the Note3 and Nova3 are available to order now from Onyx's website, but they still haven't added them to their Amazon store yet (update: now both models are available from their Amazon store as well).
The Onyx Note3 is selling for $549, the same price that the Note2 sold for, and the Onyx Nova3 is selling for the same $339 price as the Nova2 did.
Onyx only changed a few minor details with the new models, but that's what Onyx does. They release new models at an unmatched pace. The Nova2 was just released 6 months ago and now it's already getting replaced, and they've released 8 different Note models in the past 2.5 years.
The most prominent upgrade is a faster processor that Onyx claims is 30% faster (under what circumstances they do not specify).
Here's the list of upgrades that separates the new models from the previous generation:
Added speaker to Nova3
Upgraded faster octa-core processor
Bluetooth 5.0 instead of 4.1
LPDDR4X RAM instead of LPDDR3 RAM
Android 10 instead of Android 9
The overall size and weight remain exactly the same as before for both new devices, and all the main features remain the same too. They both have frontlights with adjustable color temperature, Wacom touchscreens for note-taking, USB-C ports with OTG support, dual-band Wi-Fi, etc.
The Nova3 has 32GB of storage space and 3GB of RAM and the Note3 has 64GB of storage space and 4GB of RAM.
Onyx is still selling the older models at a discount until they're sold out so you can save some money if you don't care about the newer features. Here's my Nova2 review from earlier this year if you want to see one of Onyx's devices in action. I won't be reviewing the newer model because the review would be exactly the same—a slight speed boost won't change anything.