Onyx Boox Note Air Review: The Best 10.3-inch Ereader and Digital Notebook Ever
---
Source: makeuseof.com
Author: Kannon Yamada, 11.20.2020
All rights reserved
If you can afford it, the Onyx Boox Note Air is hands-down the best 10.3-inch eReader and digital notebook.
Looking for the best 10-inch, reusable smart notebook with an E Ink screen? The Onyx Boox Note Air is a digital e-paper notebook and eReader that checks all the right boxes for students, digital artists, work-from-homers, and bibliophiles. But is it worth $480? If you're looking to replace paper, there's no better device for distraction-free notetaking and reading.
But it's not for everyone.
Hardware and Features
On paper (or should I say "epaper?",) the specs that jump out are the Wacom pressure-sensitive touch layer and the large-format 10.3-inch E Ink Carta panel. A rarity in the eReader world, a large screen, and pressure-sensitive Wacome layer make for the perfect digital notepad and eReader. The Wacom touch layer enables a passive, battery-free stylus. Along with the large screen, you can read almost any book in its native resolution as well as have plenty of note-taking space in the margins of most books.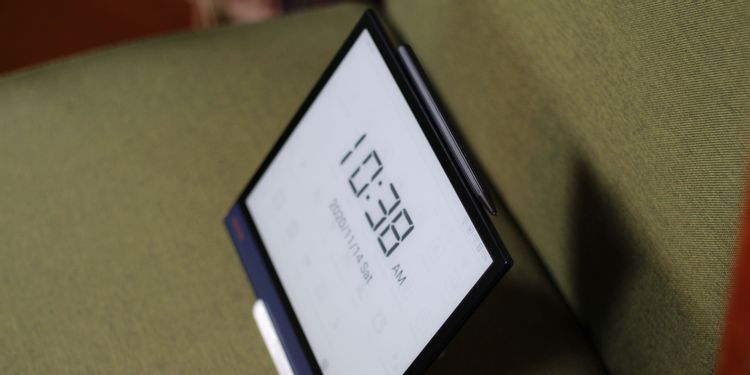 Another component worth mentioning is its processor, which is a Qualcomm Snapdragon 636 (SD636). While the SD636 is an older midrange processor for tablets, on an eReader, it's almost unheard of. Before 2020, eReaders used low-end guts which choked on Android apps.
Overall, the Note Air offers excellent hardware in its class at a price that's more than competitive with other 10.3-inch eReaders.
Screen: 10.3 " E ink HD Carta screen with anti-glare glass flat cover-lens
Resolution: 1872x1404 Carta (227dpi)
Touch: BOOX Pen Stylus touch (4096 levels pressure sensitivity) + capacitive touch
CPU: Midrange Snapdragon 636 octa-core with Cortex A53 cores
RAM: 3GB (LPDDR4X)
Storage: 32GB (eMMC)
Connectivity: Wi-Fi (2.4GHz + 5GHz) + BT 5.0
Front Light: Warm and Cold LED
Ports: Single USB-C without fast charging but with OTG support
OS: Android 10.0
Documents Formats: nearly all document types
Buttons: power button
Sensors: accelerometer for screen rotation
Speaker: Built-in speaker
Communications: USB-C 3.5mm jack, built-in microphone
Battery: 3000mAh Li-on battery with up to a month of standby
Dimensions: 229.4x195.4x5.8mm
Weight: 423g
The Onyx Boox Note Air Looks Good Too
The Note Air comes with a black-matte plastic chassis, elegantly wrapped by an aluminum bezel with orange trim. Having gone hands-on with most Onyx eReaders, this is the first time that a Boox-series device offered a level of build quality equal to high-end Amazon eReaders. And it doesn't just look good; it weighs less than the smaller 485g 10.2-inch iPad.
However, it's not the lightest in its class. In fact, it's the heaviest. The Remarkable 2's heft comes in at 0.89 pounds 403.5g, with a thickness of 4.7mm, making it lighter and thinner than the Note Air (5.4mm.) However, compared to the Sony DPT-CP1 eReader, the Onyx Book Note Air is almost twice as heavy, with the Sony weighing in at 240g.
Overall, the Note Air feels every bit as well-built as an iPad Air, except it costs less, has a Wacom touch layer, and weeks of battery life, instead of days. While it's not a featherweight reader, like the Remarkable 2 or Sony DPT-CP1, it's well built and comfortable to hold.
Other than a single aluminum power button, the Note Air handles all its navigation using gestures, introduced in Onyx's build of Android 10, and software keys. That means even page turns are handled on-screen, instead of through buttons. While some prefer the crunchy, tactile feedback of physical buttons, these fail over time. I prefer software buttons for their long-term reliability.
The Reading Experience
No epaper screen matches wood-pulp paper's contrast ratio of 21:1, which means printed text is 21 times darker than the paper it's printed on. But the Carta panel inside of the Note Air comes close, with a whopping 15:1 contrast ratio. At present, only a few devices use the same panel, including the just-released Remarkable 2 and the Sony DPT-CP1. But neither of these offer the Android app ecosystem or Onyx's reading-software refinements.
The Note Air's standout features include its superior reading experience, great note-taking capabilities, and its ability to read any digital-format document.
The Note Air Offers a Superior Reading Experience
The Note Air nails the Reader experience. Its page turns are smooth, its text is crisp for all document sizes, and it can modify how eBooks appear.
Fast Page Turns Using Variable Refresh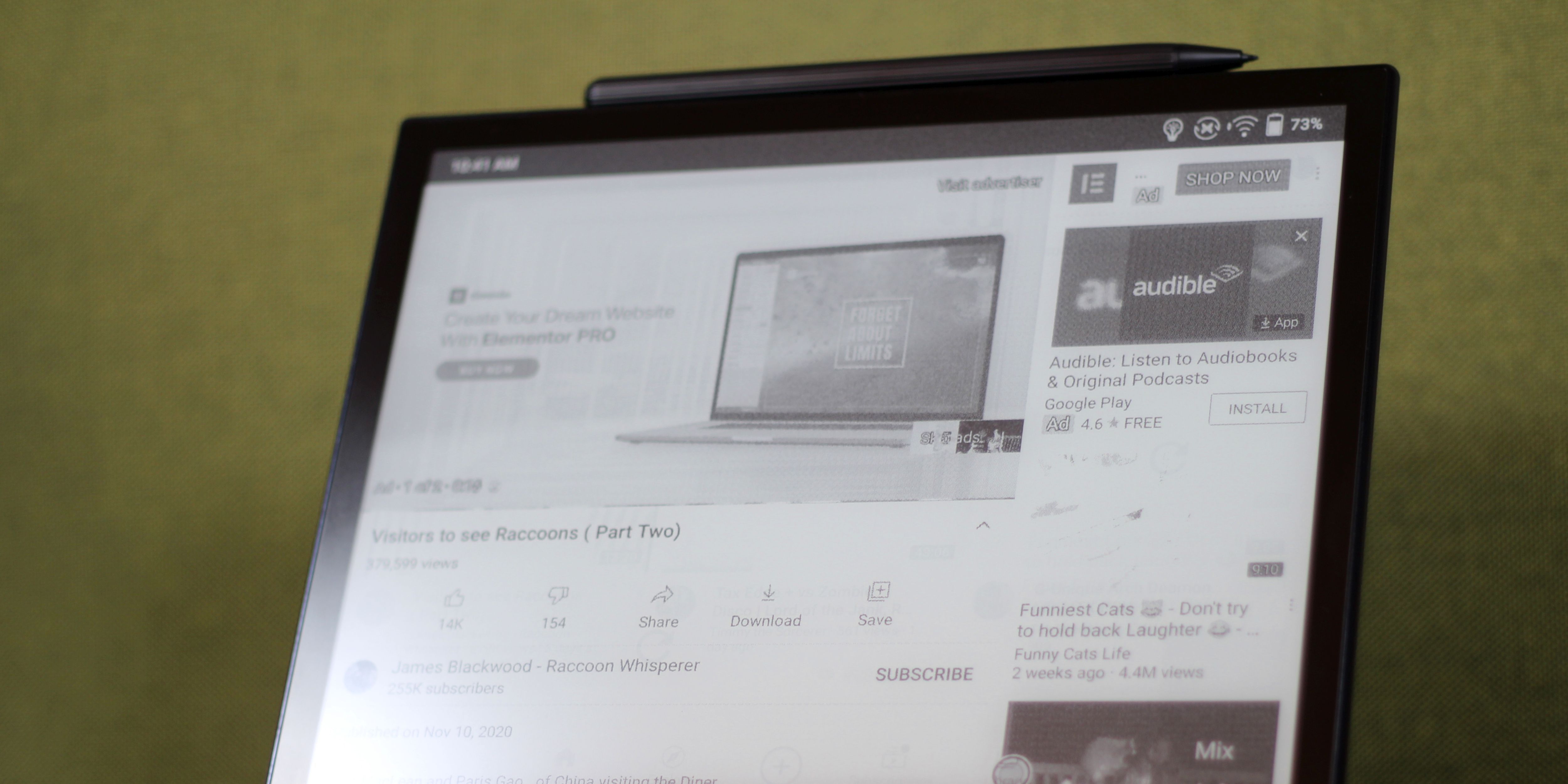 Most E Ink devices suffer from jarring screen refreshes. Unlike many other eReader companies, Onyx offers the ability to speed up page turns using a feature they refer to as Snowfield. Snowfield refreshes trade screen clarity for speed.
There are four refresh speeds: Normal, Speed, A2, and X Modes. Normal mode retains high resolution with occasional screen refreshes. Speed mode offers faster page turns with a minimal amount of ghosting, which makes it ideal for books that require skimming, such as comic books. A2 mode sacrifices even more screen clarity, although it excels at running most Android apps. Finally, X mode allows for video playback, although with some choppiness.
Overall, the variable refresh system allows for fluent use of ebooks, comic books and manga, Android apps, and watching videos.
Crisp Text Even on Large A4-Sized Documents
Its large 10.3-inch screen allows it to comfortably read most documents. Larger documents, such as Letter and Legal formats will compress slightly, yet remain perfectly legible, thanks to the 1872x1404 screen resolution. However, if you absolutely need the original-sized font, you'll want a 13.3-inch eReader, such as the Onyx Boox Max or Sony DPT-RP1.
Fortunately, you can automatically crop the margins on documents, reducing even legal-sized formats to nearly its original font size.
Automatic Document Cropping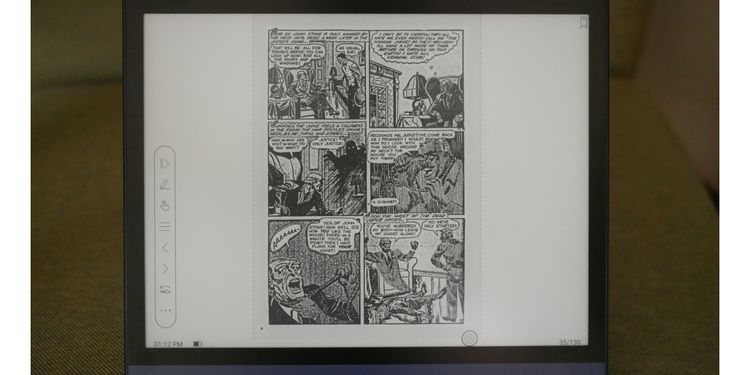 Onyx's software, as mentioned above, can automatically crop documents with margins. Unfortunately, the crop feature isn't perfect and on occasion, it won't accurately auto-crop a document. There is a manual crop option, which works well. Once a document crop is switched on, it's then automatically applied to every page.
There are several kinds of crops. The two most relevant are crop-to-width and a feature that can automatically remove the margins of documents.
Outstanding Note-Taking Abilities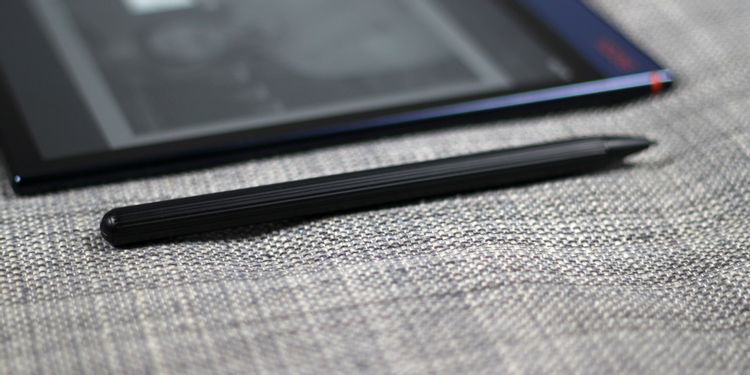 As a note-taking device, there's no equal in the eReader world. It blows away even Sony's DP-CP1. Its superiority rests entirely within the Wacom pressure-sensitive touchscreen layer. The Wacom touch layer doesn't require an active, battery-powered stylus. Instead, it uses a battery-free passive stylus, which makes it about as light as a pencil. The stylus writes fluidly and without noticeable latency. While it lacks the scratchiness of graphite and paper, in most ways, it feels balanced and wieldy.
On the downside, the Note Air isn't for digital artists. No other consumer-class device can match the iPad series in terms of latency and color accuracy. While sketching or outline a graphic image isn't difficult, there are significant delays between switching between layers on your sketch. And, quite frankly, the experience falls far short of even an Android tablet.
Reads Any Document Including Foreign Language and Bad Scans
The Note Air's most magical features are on-the-fly translation of books and its ability to display horribly-scanned books, using a combination of optical character recognition (OCR) wizardry and text-reflow technology.
Automatic Translation of Ebooks
The Note Air can read most foreign-language eBooks, unless you have a scanned PDF. To translate any document, take the following actions:
Open a document using the default NeoReader app
Once opened, tap on the center of the screen to summon the menu
Choose Split View
Choose Doc & Translate
NeoReader then opens the app in split-screen mode with the original language on the left and the translation on the right. In the past, translation services offered gibberish-levels of quality. Nowadays, the quality reads almost as if written by a native speaker, even for Russian-language books. And if a particular translation service doesn't handle the document, you can change it. Unfortunately, Google Translate isn't yet offered; only Bing and Baidu.
OCR-Text Reflow on Poorly Scanned Documents
The OCR-reflow feature is pure magic. The best of today's OCR software is based on artificial intelligence (AI) deep-learning algorithms. The AI models are usually trained to recognize certain kinds of text. But because there are so many kinds of fonts and scan qualities, the AIs suffer from poor accuracy. Onyx solved this issue with pure elegance. Their OCR method simply reflows, or rearranges, the scanned text itself while at the same time removing the background. In other words, it recognizes the scanned letters on a page and reorganizes them into larger or smaller characters depending on your needs, while whitening the background to improve the contrast ratio. The end result is legible, readable text.
Why You Might Not Want the Onyx Boox Note Air
While an amazing product, there are a lot of reasons you might not want a Note Air.
The Onyx Boox Note Air Costs $480
The high cost of the Note Air makes it completely unaffordable to those on a budget. For comparison, the Remarkable 2's preorder price is $399, with the final RRP likely to be higher. But the damage to your bank account should will still fall short of the Sony DPT-CP1's wallet-murdering $600. Both devices are inferior to the Note Air, with the exception that they're both lighter; the DPT-CP1's 220g weight makes it almost half as heavy as the Note Air. While the Remarkable 2's weight falls just short.
The Google Play Store Requires Additional Steps
The Google Play Store isn't installed out of the box and must be manually enabled. It's easy, but requires extra time and effort. The set-up process requires just a few steps.
Before doing anything else, the first step is to update to the latest firmware version. Do that by going to: Settings > Firmware Update > Check for updates. If a firmware update is available, the eReader will run through the update process, taking less than 30 minutes. After it updates, it'll restart.
Then activate Google Play by going to: Settings > Applications. Then check the box for Enable Google Play. Your device will then attempt to register with Google Services Framework. After waiting anywhere from a few hours to a day, the Google Play Store should function.
I recommend installing a few apps, particularly Pocket, OverDrive, Foxit PDF Reader, and if you use RSS, FeedMe RSS Reader (it's the best RSS reader ever made.) It's worth mentioning that all ebook stores, from Kobo to Amazon Kindle, have apps for Android. And through these apps, you can access whatever content you've purchased through them.
Onyx Released The Boox Poke 3 Seven Months After the Poke 2
Onyx sped up their release cycle in 2020, pushing out the Boox Poke 3 only seven months after they released the Poke 2. Normally, release cycles are about one year. That's because customers might feel betrayed once the new version arrives. It also suggests that the manufacturer might stop supporting the older product with firmware updates. Indeed, the Poke 2 came with Android 9, whereas the Poke 3 arrived with Android 10. That's bad because the two devices have nearly identical internal components and there's no reason why the Poke 2 shouldn't have Android 10.
Onyx Once Had a Poor Reputation for Reliability
In the past, Onyx devices suffered from numerous component failures. Because they didn't offer US-based repair services, you had to ship defective products back to China. They also had a poor firmware and security patch update record.
Both issues were resolved in 2018. In 2018, Onyx contracted with iCare Repair in Michigan to handle US repairs. During the same time period, Onyx also shifted over to a more rapid firmware release cycle. For example, the 2018 Nova Pro received an update in July of 2020. My guess is that Onyx's official software support period is two years after the initial release of the product.
Onyx Doesn't Release Source Code
Onyx doesn't release its source code, in violation of the Linux Kernel's licensing agreement. That means installing custom ROMs on its eReaders is difficult, if not impossible.
Android Is Complicated to Use
Finally, the Android operating system is more complicated to use and troubleshoot than the proprietary systems used by Sony and Remarkable. While Onyx made their system fairly simple and easy to use, their devices still require figuring out what app to install. The sheer size of the Android app library makes finding the right app harder than, say, a Sony DPT-CP1.
Should You Buy an Onyx Boox Note Air?
If you can afford one, the Onyx Boox Note Air is hands-down the best 10.3-inch eReader and digital notebook. Its standout features include an ability to read any ebook, an innovative and almost magical assortment of reading tools, and outstanding note-taking capabilities. For both students and professionals, there's no better 10.3-inch eReader or digital notebook.
However, for those who seek a smaller format device, I recommend the 7.8-inch Onyx Boox Nova 2 (our review of the Nova 2).