Flush glass based display makes sure every edge of screen can be drawn from any angle and superb scratch resistance that bears strong stylus press without any scretch.
With the optimized portable design, you own one light and thin Boox Note Lite that you carry thousands of book copies in hand.
10.3" screen (slightly larger than A5 size) – original A5 size book reading experience, zooming and scrolling are not required.
Finger touch helps you manage your Note easier and simpler.
Quad-core processor and Android 6.0 maximize the compatibility to third-party applications.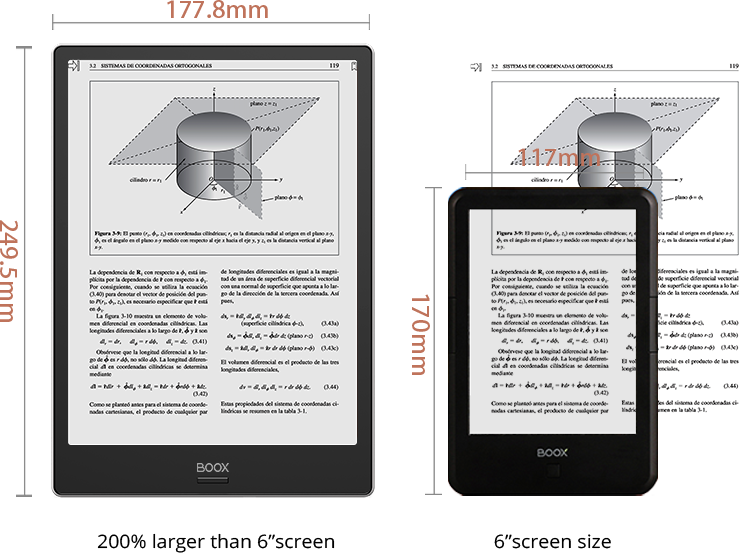 10.3″ High Resolution E Ink Mobius™ Flexible Display
Sharper and clearer 1872 x 1404, 227 ppi
Flush glass based, Scratch resistant
Glare free, readable directly in the sunlight
Natural A5 size, no zooming and scrolling
Touch screen
Easily manage your Note Lite by finger
Android 6.0, Open Operating System Beats All
Unlike the closed linux-based E Ink ereader BOOX Note Lite boasts Android 6.0. which empowers BOOX like never before. It gives you the opportunity to maximize Note value.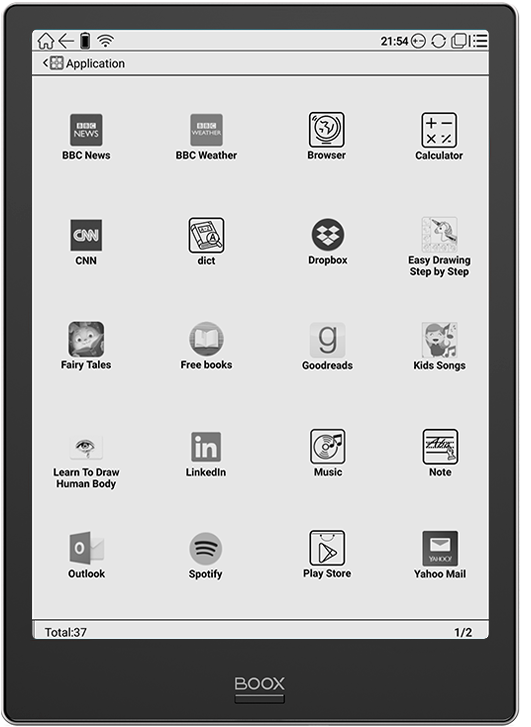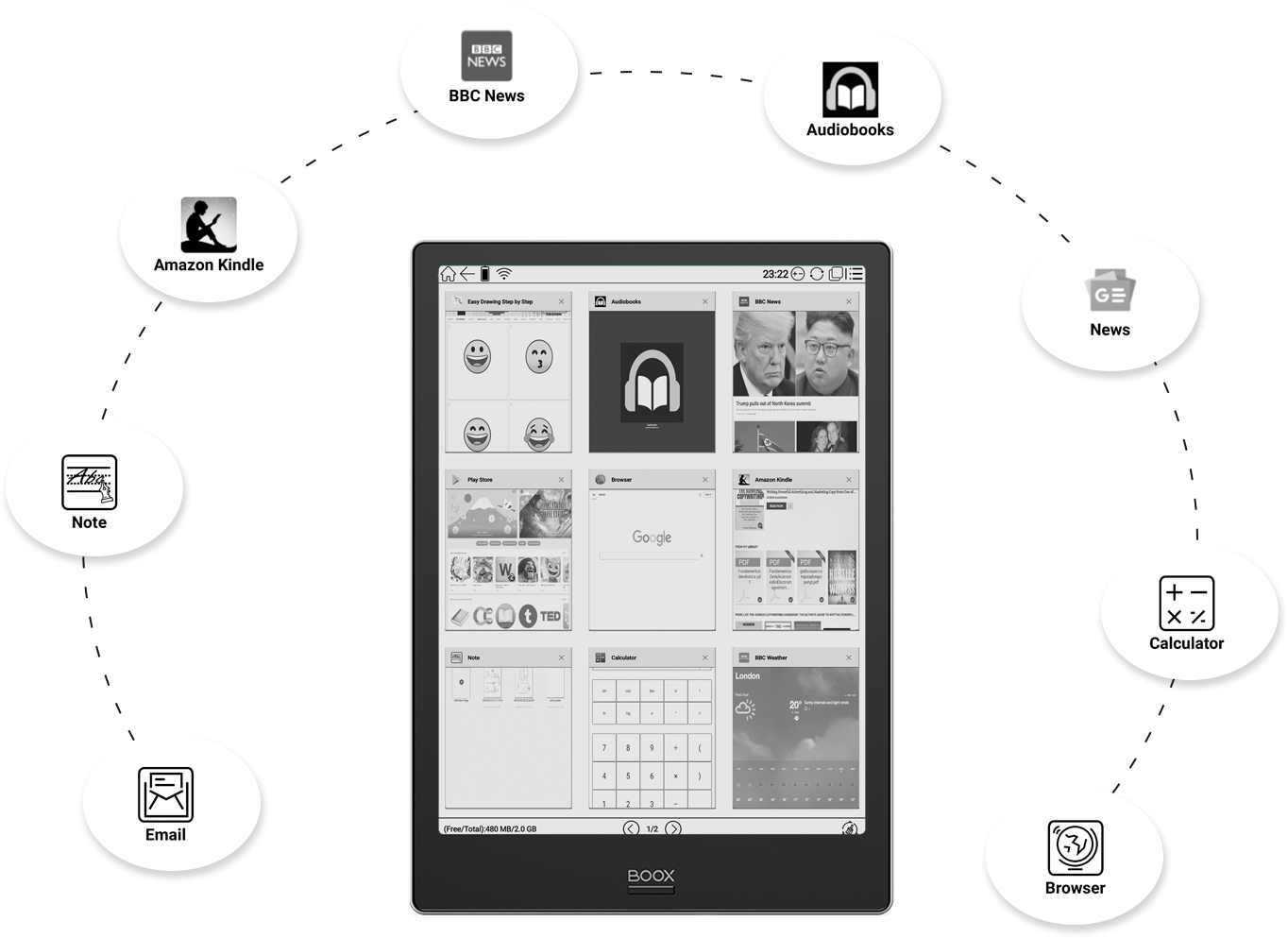 It Multitasks, Just Like Normal Android Tablets
Powered by quad-core processor and Android 6.0, Note Lite can run multiple apps at the same time. A single tap to the right up corner will display all running apps.
Indulge Yourself in Reading Your Favorite Books on a Larger Screen
Note Lite's display is 200% larger than that of the regular 6" E Ink eReaders. It allows you to read more text on one screen and to reduce the frequencies to turn pages. With rich reading features of BOOX eReaders, Note can make your reading more enjoyable.
Highlight
Bookmark
Annotation
Dictionary
More menu choices: zoom shortcuts, contrast
Pinch to Zoom
Manage font size and adjusts screen zooming freely at your two finger tips
32GB Large Storage Capacity, Carry as Many Books as You Want
Robust Web-browsing
Thanks to E-Ink carta's latest refresh technology and powerful quad-core processor, you can browse most websites via our built-in web browser smoothly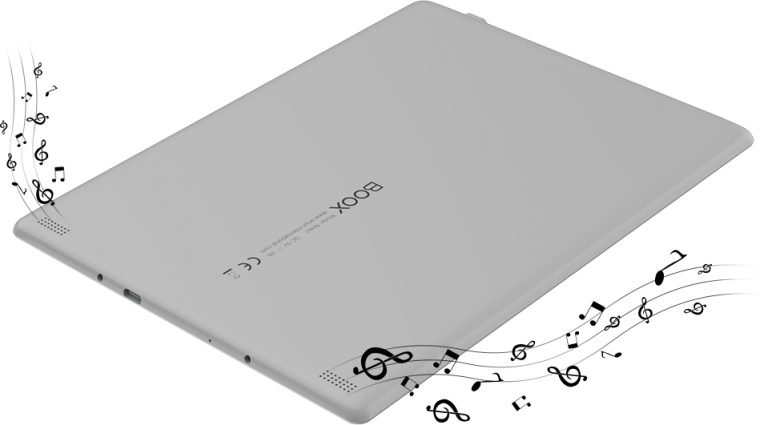 Built-in Dual Speakers, Stereophonic Sound Effect
Listen to audio books or enjoy music while you are reading. Tired of reading? Text-to-speech can read for you from where you left off.
The Perfect Combination of Portablity and Performance
Product detail showcase
BOOX Note Lite Specification
Hardware

Screen: 10.3"HD Mobius Carta flexible Screen,flush glass based
Resolution: 1872×1404(227ppi)
Touch: Capacitive touch
CPU: 1.6G Quad-core
RAM: 2GB LPDDR3
Storage: 32GB
Grayscale: 16 level
OS: Android 6.0
Wireless: Wi-Fi + BT4.1
External slot: USB Type-C
Physical buttons: Power, Back
Battery: 4100mAh Polymer Li-on
Mic, Speaker: Support
Size: 249.5 x 177.8 x 6.8 mm
Weight: ≤ 360 g

Software

Carta+ refresh technology
Android 6.0
4096 levels pressure sensitivity
Document formats: pdf,epub,mobi,doc,txt,djvu,fb2,html,chm etc.
Picture formats: jpg,png,bmp,tiff,cbr,cbz
Audio formats: WAV, MP3
APP Store: BOOX store(1.9.1)
Note: Since a part of the Flash memory size is system software, the portion available to the user is less than the total size of the memory chip.
The device is designed primarily for reading electronic books, but has some additional features which are defined by the installed software. For example, the current firmware has functions such as calendar, dictionary, access to the Internet, and others.
The device is freely reprogrammable on request of the user who can install, delete and create programs.
The device has a battery that provides long, autonomous usage.
For ONYX BOOX Note Lite there are no updates