Like print books, better than print books
Poke2 employs the 4th generation E Ink HD Carta display with a resolution of 1488 x 1072 at 300dpi, offering a truly paper-like reading experience. Poke2 gives high-level customization of reading experience: change fonts and font sizes, adjust image or text contrast, bold text, reflow the whole book... and more. Scrolling reading mode for PDF books removes the hassle of turning pages.

Your mobile Library for life
Poke2 supports almost all available ebook formats such as PDF, EPUB, TXT, DJVU, HTML, RTF, FB2, DOC, MOBI, CHM...Its 32GB storage holds thousands of ebooks, magazines, comics, songs, and audiobooks. The reading statistics will summarize all your reading activities from the Library and help you manage your reading time more efficiently.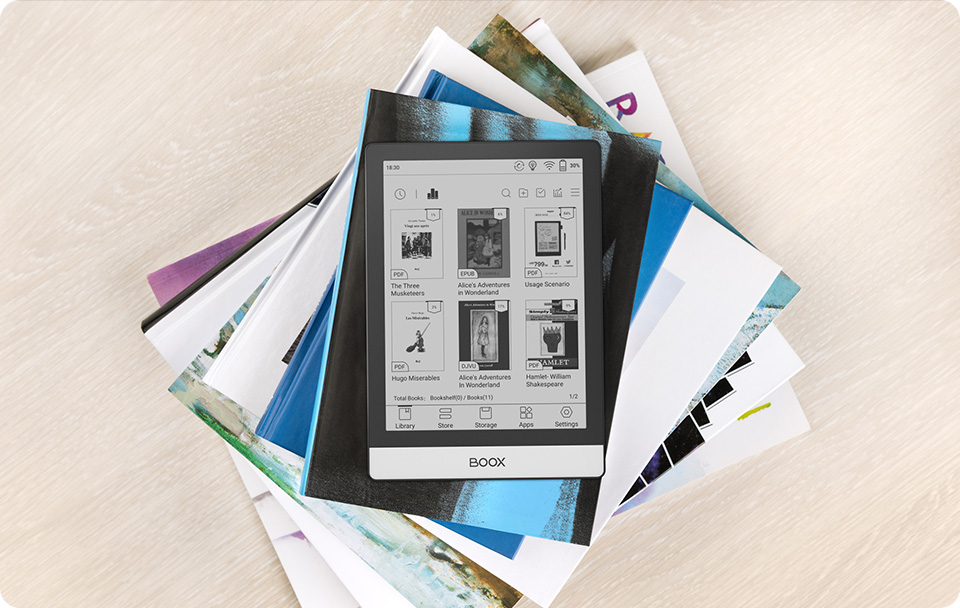 32-level adjustable warm and cold Frontlights
Warm light hue, cold light hue or mixture? It is all at your fingertips. You can toggle between the warm and cold lights and read days and nights without time limitation. Warm light is recommended for night-time reading as it helps to improve your sleep at night.
Native user-experience even on third-party reading apps
Poke2 equipped with Android 9.0 allows you to install all third-party reading apps such as Kindle, Kobo, Tagus, Nook...and more. You can enjoy their millions of titles on the go. All third-party apps can be automatically optimized and offer native user experience just like on normal tablets.
Not only for reading but also for listening
When you want to give your eyes some break or listen to relaxing music during reading, you can connect Poke2 with Bluetooth-enabled speakers or earphones for audiobook, TTS or music. You can install your favorite music and Audible apps to Poke2 easily. The 32GB offers plenty of space to carry thousands of songs or audiobooks with you.